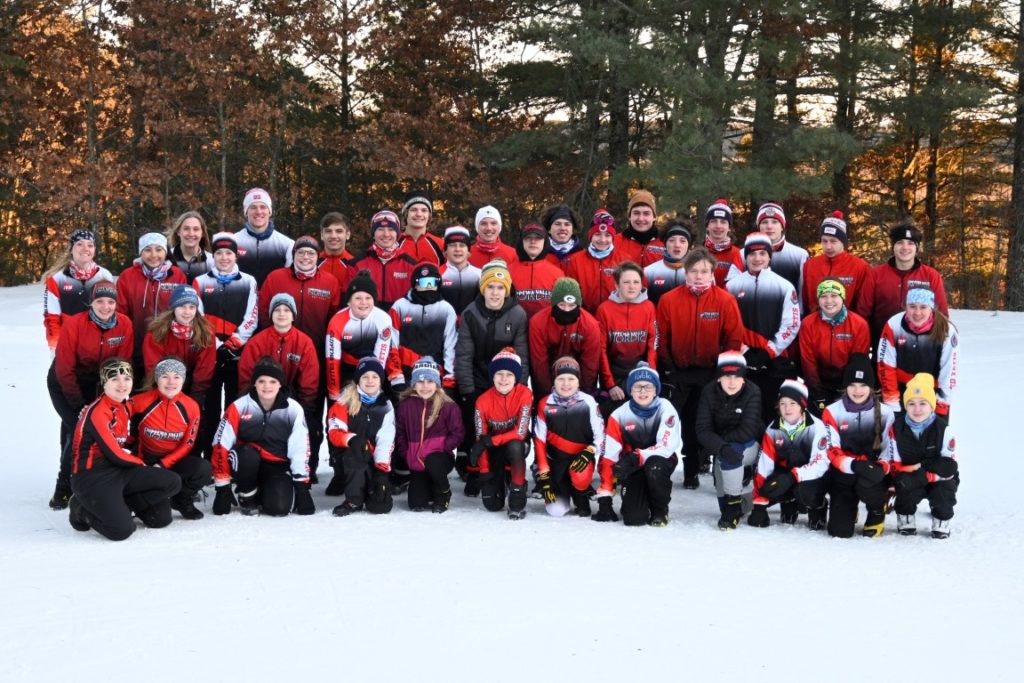 Chippewa Valley Nordic Ski Team (CVN) is a Cross Country ski club for middle and high school students from the Chippewa Valley / Eau Claire area interested in cross country ski racing as part of a competitive team. CVN is a club program, self-governed and funded, and while not associated with any area school, we welcome skiers from any area schools that can practice with our team.
The team evolved from the youth Kickin' Kids Learn to Ski program held Mondays during the winter at Tower Ridge ski area since the early 1990's. The primary age group for the Kickin' Kids youth program is ages 5-12, with over 180 participating skiers. CVN started back in about 2006 to provide an organized option for skiers older then the Kickin' Kids program, and has gradually grown ever since to about 60 HS and MS skiers. A unique aspect of CVN is that we have a number of Eau Claire Flying Eagle ski jumpers on our team that practice and race with us to prepare for Nordic Combined competitions. We are a charter group connected to the Eau Claire Ski Striders, a local cross country ski club. CVN provides volunteer coaching support at practices and races, some race waxing support as well as supplementing race registration fees for the skiers.
Mission Statement: to provide an opportunity for middle and high school age students to learn, train, compete, and have fun cross country skiing. The focus is on improving technique and training for competition in the Wisconsin Nordic Ski League and regional ski races.