High School and Middle School
State Sprint Championships
February 3 – 4, 2024
Ariens Nordic Center
1111 Round Lake Road, Brillion, WI
Dates are updated for the coming season. Many other details will be updated as information becomes available.
Registration/Entries
To register your team for both individual and team relays, use the meet that is set-up in MileSplit. Registration will close on Monday, January 29, 2024 at midnight.
Teams can register both individuals for Sunday and teams for Saturday. Teams will be designated by the system as Team A, B C and so on. Put your best team in the A relay, followed by B, than C. For the individual entries, we'll ask for A-B-C designations for seeding.
All participants will receive CXC buff and ski ties.
Please adhere to the registration deadline – we need firm numbers so we can set-up the overall weekend schedule based on how many entries we have and the number of heats we need to run.
---
Schedule of Events
Saturday, February 3 – Classic Team Sprint Relay
Skiers will race in teams of two and a race will involve each skier skiing two times a distance of approximately 1 to 1.5k. There will be a tagging between each leg. (Skier1, tag, Skier 2 tag, Skier 1 tag, Skier 2 finish.) The tag will involve a hand to body contact within the confines of a defined "tag zone." Each team will race a semi final race and a final race.
Wisconsin clubs and teams can register as many JV sprint teams as they like, but can only register three Varsity boys team, three Varsity girls team, and two Varsity mixed gender team. There will be separate racing categories for JV, Varsity boys, Varsity girls, and Varsity mixed gender.
The schedule for the day is as follows starting at 10:00 am and running to conclusion.
10:00 am – Varsity Boys, Varsity Girls, Mixed Gender
12:00 pm – JV Boys, JV Girls
12:45 pm – High School Awards
1:12 pm – Middle School Boys
3:20 pm – Middle School Awards
Detailed Schedule
Printable Schedule (pdf)
Sunday, February 4 – Freestyle Sprint
The sprint course will be roughly 1.5 k in length and will take just minutes to complete. There will be an interval start qualifying round for all skiers. The fastest 32 competitors will qualify for sprint heats where skiers will race head to head with
up to 8 competitors for each heat. Finishers 32 on up will also get the opportunity to race head to head in one heat with their skiers who had similar qualification times.
In the quarterfinal heats, the 32 competitors are split into 5 heats of 8 ranked by qualifying times. The skiers with the fastest qualifying times choose their lane for the heats first. The top 4 finishers move the "upper" semi final, and the lower 4 finishers move the the "lower" semi final.
The semifinal heats start as soon as the quarterfinals end and this time there are two heats of 8 skiers. Again, the fastest 4 from each heat will move to the top final, and the lower 4 will move to the lower final. The last heat of the day is the final heats and skiers race head to head for the top 8 places in the A final and places 9-16 in the B final, places 17-24 in the C Final, and places 25-32 for the D Final. These skiers will ski a total of 4 times including the qualifying race.
Skiers who don't qualify for the top 32 competitors will have their own E, F, G…Final which is based on qualifying times and they will ski head to head for their place. These skiers will ski a total of two times including the qualifying race.
9:00 am – Sprint Qualifier for HS followed by MS
10:15 am – Break
11:45 pm – Heat Races Start
Middle School heat run to conclusion followed by High School Heats
Detailed Schedule
Printable Schedule (pdf)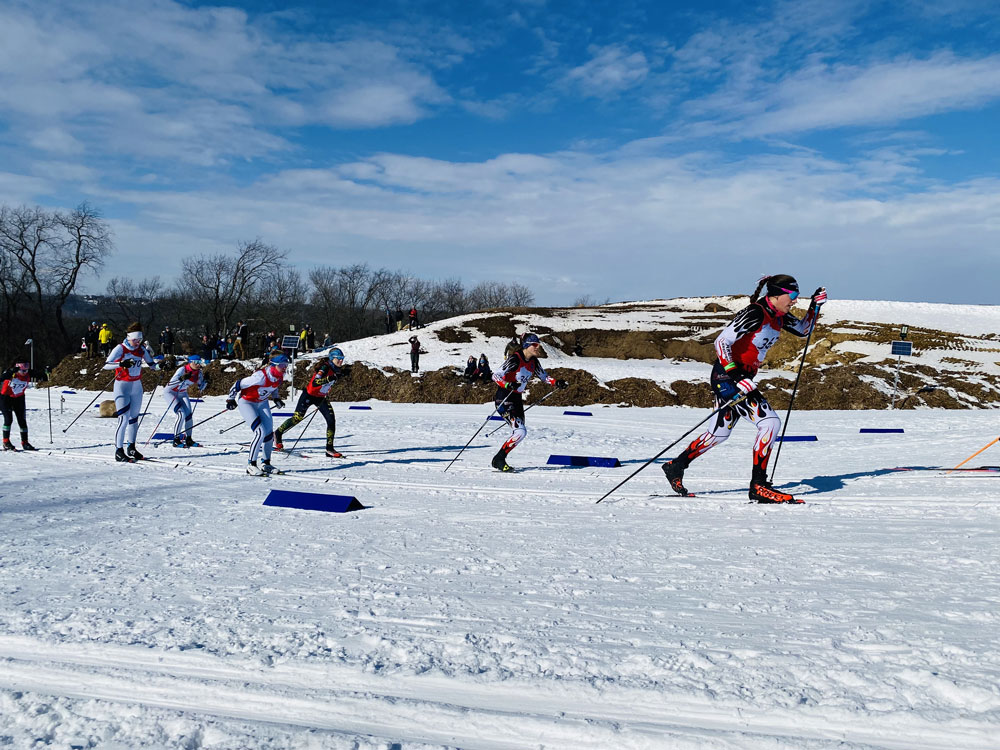 ---
Lodging
More information will be posted soon.
---
Coaches Meeting
Coaches Meeting will be held on Thursday, February 1, 2024 at 7:00 pm on Zoom. Link will be provided to all registered teams.
---
Awards
High School Classic Team Sprint – medals for top 3 teams.
High School Freestyle Sprint – Medals for top 10 athletes.
Middle School Classic Team Sprint – ribbons for top 3 teams.
Middle School Freestyle Sprint – ribbons for top 5 athletes.
---
Results
---
Waxing & Wax Testing
Waxing will be available near the start/finish area. Power will be available.
WI Nordic Ski League wax policy applies.
---
Bibs
Bib pick-up will be near the start/finish area and will be covered in the coaches meeting
---
Race Officials
Information will be provided once it becomes available
---
Parking
Information will be provided once it becomes available
---
Visitor Guide
Information will be provided once it becomes available