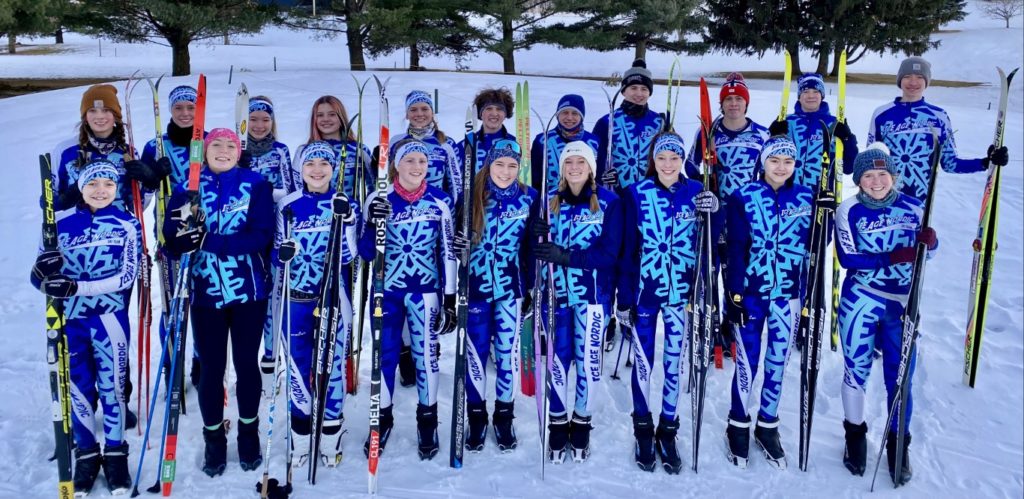 The Ice Age Nordic ski program serves the Lodi, Waunakee and Deforest area and provides an instructive and competitive program for middle school and high school students. Our team is a member of the Wisconsin Nordic Ski League and belongs to the South Conference with Peak Nordic, North Kettle Moraine, Madison Nordic, and Blackhawk Nordic. This year we hope to have about 6 HS boys and 15 HS girls, as well as about 15 MS skiers.
The ski season starts November 9, 2021 and ends February 26 2021. Practices are held in Lodi at the golf course trails, Lodi HS, Elver Park in Madison and Hwy 12/19 bike trail.
Ice Age Nordic is a Club Team. Skiers pay $250 to participate on the HS team and $150 to participate on the MS team. Fees cover all coaching, trail fees, grooming, equipment and race fees. It does NOT cover the State Meet, overnight expenses for trips, lodging and transportation. All skiers must provide their own transportation to practices and meets.
The Ice Age Nordic HS, MS and youth ski programs are covered by liability
insurance provided by the West Bend Insurance.
The Ice Age Nordic Ski Club is a 501c3 organization. It accepts funds from private donations, LACE, ABSF, and fundraisers.
Coaches
High School and Middle School coaches include:
Dale Fanney M.D.
(17 years)
Don Fariss
(17 years and Hall of Fame XC Coach)
Joe Bainbridge
(13 years)
Dan Heider
Coaches are vetted with annual background checks and Safesport.
Roster
Todd Niles
Nathan Ducat
Nolan Feasel
Sam Clipper
Troy Niles
Norah Lee
Amelia Heider
Emily White
Phoenix Peterson
Malia Niles
Jordyn Jarvi
Anna Englebert
Warren Ambord
Jenna Bakker
Audrey Bakker
Carla Schwitters
Alexi Walker
Marin Walker
Jessica Bugielski
Madalyn Pence
Jonah Braden